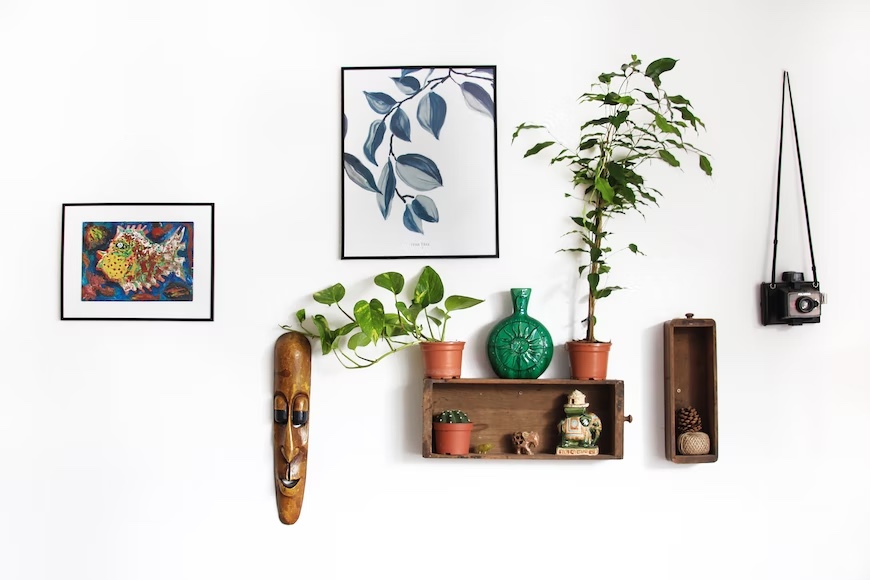 Best Sustainable Home Decor for A Healthier Environment
Create an eco-friendly, healthier home for yourself and your family by adding these 5 sustainable home decor.
Having a sustainable household means being energy-efficient, minimizing environmental hazards, and using sustainable home decor that is eco-conscious. What's important is helping reduce the carbon footprint and minimizing waste that negatively impacts the environment while improving each family member's physical and psychological well-being.
Did you know? At least 500 million plastic straws are used every day. Unfortunately, only 8.7% of plastic created is recycled, while 75.5% is thrown into landfills, causing worldwide plastic pollution. By starting a culture of sustainability and environmental responsibility at home, we are teaching the next generation how to take better care of our planet.
If you don't know where to start your journey to environmental sustainability, here are five home decor ideas that can breathe a cleaner atmosphere into your home.
1. Indoor plants
First on our list are indoor plants. They're not only sustainable but are also cost-effective home decorations that improve the ambiance of your living room, bedroom, and kitchen. Moreover, plants make your house look refreshing and natural while purifying and improving the air quality inside your home. Plants are not only low-cost but also help save energy by enhancing your house's ventilation.
What's more, plants have been found to sharpen your attention, enhance your productivity, and lower stress and anxiety. So if you don't know where to begin, start your sustainability journey by going green (literally)!
2. LED lights
Regular light bulbs, such as incandescent and compact fluorescent lights (CFL), are usually energy-draining and contribute to the carbon dioxide emitted to the environment, negatively affecting our climate. Using LED (light-emitting diodes) lights, on the other hand, cuts down on electricity usage.
There are many ways LEDs save energy in your home. LEDs emit light in a specific direction, unlike other types of light, which need reflectors and diffusers to trap light. This feature makes LEDs more efficient for many uses. LEDs also emit very little heat, compared to incandescent bulbs and CFLs, which release 90% and 80% of their energy as heat. Lastly, a good quality LED bulb can last 3 to 5 times longer than a CFL and 30 times longer than an incandescent bulb.
Pro-tip: LED lights' high efficiency and directional nature make them ideal for your home. For better lighting, install LEDs in your under-cabinet lighting and recessed downlighting in kitchens, hallways, bathrooms, and garage parking. Decorative LED lights are also safer, sturdier, and easier to install around your Christmas tree as part of your holiday home decorations.
3. Jute furniture
Referred to as the "golden fiber", jute is an incredibly strong, sustainable, and affordable fabric second only to cotton. What makes jute more sustainable than cotton, however, is that jute is a rain-fed crop. This means it needs little fertilizer and pesticides to grow. Furthermore, jute is biodegradable, making it an eco-friendly solution for furniture manufacturing.
Adding home decor made of jute adds some texture to your home, giving it a unique ambiance. It can be as simple as placing a rug made of jute in your living room. Jute is also an excellent material used in upholstery, which can perfectly contrast a room's aesthetic. Place a jute couch in your receiving area or jute swing chairs on your porch where visitors and family members can relax.
4. Upcycled home decor
Sustainable materials for upcycled home decor such as natural rope, pinewood, bark, bamboo, and recycled plastics are a great way to minimize the waste pollution on our planet. These are also creative additions to your home space. You can purchase upcycled home clocks, dreamcatchers, or even lounge chairs from local artisans in your community. An upcycled wine bottle charcuterie board on your dinner table can be a great conversation starter during dinner parties like Christmas and Thanksgiving celebrations.
If you have several used items in your home that you're planning to throw away, maybe it's time to make DIY home decor. You can recycle used bottles, baskets, or kitchenware to make upcycled flower vases, lamps, and storage bins. If you have a hula hoop that is no longer used, you can paint it with gold and add some LED string lights to make an outdoor chandelier for your garden pergola or porch. Making upcycled home decor is also a meaningful way to spend time with your kids.
5. Bamboo drawer organizers and dividers
Bamboo is an easily renewable resource as it is a fast-growing grass that generates quickly. Furniture made of bamboo is typically lightweight, durable, and easy to clean. If you're looking for ways to organize your cutlery or kitchen spices, adjustable bamboo drawer dividers are not only eco-friendly but are also an easy and affordable way to declutter your kitchen.

If you need a light-friendly partition to maximize your home space, bamboo dividers provide privacy and a calming look to any room. You can install bamboo dividers in your bedroom or living room space. For more functionality, look for bamboo dividers with removable shelves to store decorative items like potted plants, vases, and picture frames.
Bottom Line
Our home is a safe place to learn, practice, and teach environmental responsibility. By using sustainable home decor, we create a healthier environment for ourselves and other members of the family while helping our society become less polluted. There are several ways to make your home sustainable. Here are five of the most practical sustainable home decor ideas to build an eco-conscious household:
Indoor plants
LED lights
Jute furniture
Upcycled home decor
Bamboo drawer organizers and dividers
About Ziba Property
Ziba Property is a leading property website to help property seekers and investors find their dream homes. If you're a real estate agent or a business owner, you can list your company or services so homeowners and other clients can easily find you online. Be the first to learn about new listings, schedule home tours, and get the best business deals possible. To learn more about Ziba Property, click here or download the app on Play Store and App Store.