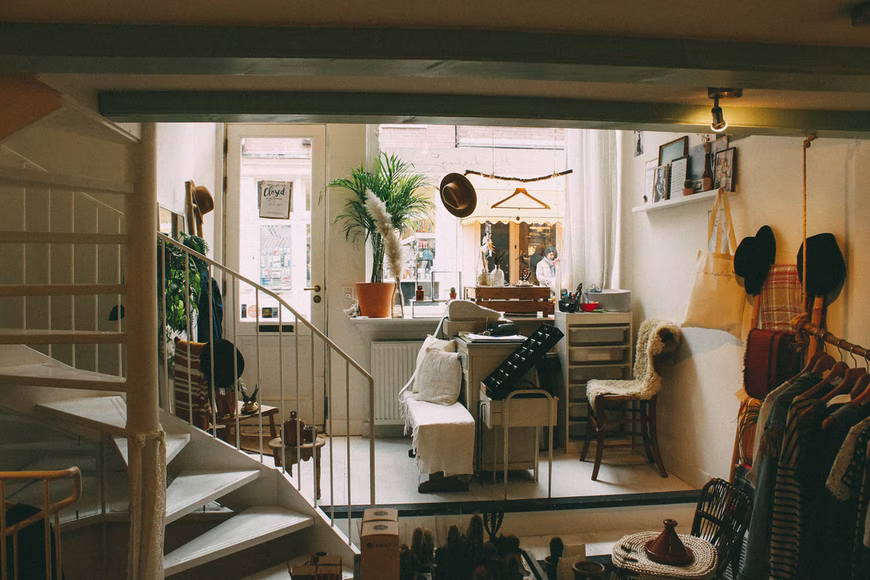 6 Easy Steps to Help Declutter Your Home
Having trouble decluttering? We rounded up 6 easy steps that will help declutter your home efficiently.
Having a lot of clutter can make our home feel disorderly and out of control. And decluttering an entire home is an overwhelming task, especially for busy people. To help you to declutter your home, here are six easy steps that will make decluttering more manageable.
1. Identify the critical areas to declutter
Before you start slashing and burning your house (metaphorically, of course), you need to know which parts of your home need decluttering—whether it's the entire house or just some areas. While decluttering the entire house can be daunting, you can start working on five critical areas. If you don't know where to start, you can check the following spaces in your home to see if they need decluttering:
Bedrooms (especially children's bedrooms)
Kitchen
Kitchen drawers, cabinets, countertops
Bookshelves
Desk spaces
Laundry spaces
Bathroom
Pantry
Wardrobe cabinet
Pro tip: If five seems to be an overwhelming number, you can start with one area to tackle at a time. Creating a "clutter" list—places with a lot of clutter—will also help you become more systematic. You should also be specific about which areas to declutter. Instead of just listing down "bedroom," which part of the room—desk spaces, drawers, bookshelves, cabinets?
2. Allocate time to declutter
Decluttering takes a considerable amount of time. It could last an hour or a whole day (or days) depending on the extent of cleaning needed. If you're juggling work, family, and household chores, scheduling a specific day and time to declutter will help you set your priorities.
To minimize distractions while you declutter your home, set a timer and put your phone away. This will help you focus on your task and maximize your time.
Pro tip: If you're decluttering your children's bedroom and toys, you can involve your kids in the process. This will be a great bonding moment that will teach them the value of an organized and orderly home.
3. Create a "declutter" checklist
To be more efficient when decluttering, create a "declutter" checklist. This is a checklist containing all the items that you can throw away. By creating this list, you can keep track of the things that can be reduced from your home. This list will also help you identify the items that you can or can't live without.
Pro tip: Once you have your list ready, choose five to 10 items from the list that you can get rid of immediately. This will quickly build up your momentum. If you take a before and after photo of the area, you'll be amazed at how letting go can be easier and more satisfying than you originally thought.
4. Get your bags and storage ready
Before you declutter, make sure to have your bags and storage containers ready. Once you've identified the items you no longer need in your declutter list, you can categorize and place them in "donation", "recycle", "sell", or "rubbish" bags. This will make cleaning up easier after you declutter.
You should also prepare your storage containers in advance. Arranging your remaining items in properly labeled storage containers or baskets will make your home look more spacious, clean, neat, and organized. 
Pro tip: Make sure to take the "donation" and "rubbish" bags out of your house as soon as possible before they start cluttering up your space again. You can also start selling unwanted items in your neighborhood or online through apps like Ziba Property. Who says there's no cash in your trash?
5. Start by decluttering a single drawer
So, you have a lot of areas to declutter. Seeing piles of rubbish in a single room can be overwhelming and unmotivating. To keep your declutter engines running, start with one single drawer. This will build your momentum until you've finally decluttered the entire room. And don't forget to turn on the music to get your groove on while you declutter.
Pro tip: Your storage areas like drawers and cupboards are prime locations to stash something away quickly. That's why it's easy to clutter these spaces. Decluttering your storage areas first will give you enough space to store the things that you actually need.
6. Make decluttering a daily habit
Decluttering should be a habit. As we move around our homes every day, it's easy to clutter spaces especially if you have too much stuff or family members who want to mix things up here and there. By incorporating decluttering into your daily routine, you build healthy habits and discipline for a more orderly home. Starting a healthy routine will also minimize other unhealthy habits that build up clutter in your home.
Pro tip: Place bags and baskets strategically around your house to keep clutter under control. Once you encounter things you no longer need, you can easily place them in "sell", "recycle", "rubbish", or "donate" bags. When your bags or baskets have been filled up, it's time for you to donate, sell, recycle, or throw them.
Bottom Line
Decluttering should be one of our home resolutions for 2022 to keep our dwelling place as clutter-free as possible. When we create a "declutter strategy", we can easily minimize many unnecessary items and make our homes look more organized and refreshing. 
To recap, here are six easy steps to help you declutter your home:
1. Identify the critical areas to declutter
2. Allocate time to declutter
3. Create a "declutter" checklist
4. Get your bags and storage ready
5. Start by decluttering a single drawer
6. Make decluttering a daily habit
Once you're done decluttering, show your family what you've achieved and set the ground rules for storing things and decluttering.
About Ziba Property
Ziba Property is a global online community of homeowners, tenants, landlords, real estate agents, and businesses and services. With Ziba Property, homeowners and tenants can stay connected with their neighborhood anytime, anywhere.
If you're looking for a bigger home, you can search for the best rental properties on Ziba Property. You can browse condos and apartments for rent or sale in your desired location.
Aside from being a real estate property management software, Ziba Property is also a great platform to sell pre-owned items in your neighborhood. Whether you're moving in, moving out, or simply decluttering, you can list your items on Ziba Property for other users to see.
To enjoy these benefits, download the Ziba Property app now from Play Store and App Store.
Tags In