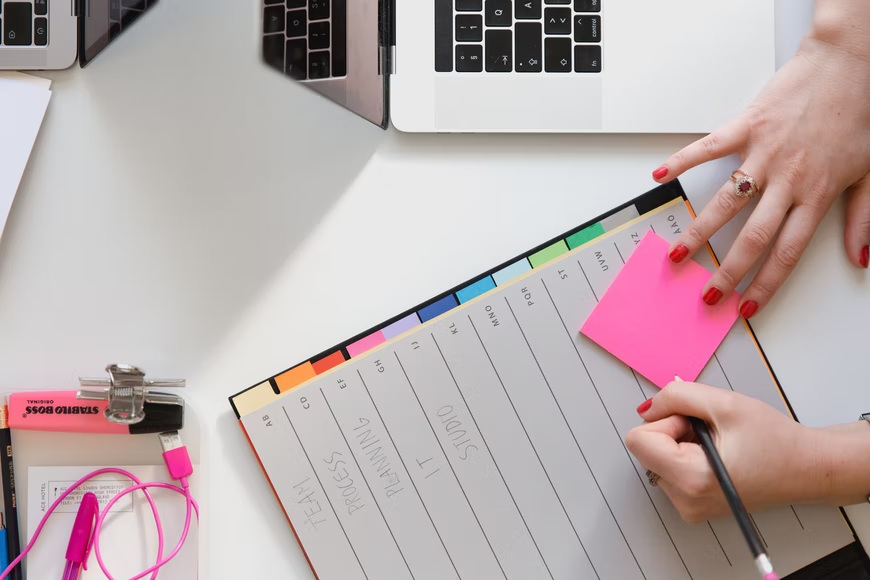 5 Time Management Tips for Busy Real Estate Agents
Too many things to do but so little time? Here are 5 effective time management tips for busy real estate agents to grow their businesses.
While a standard workweek for a real estate professional is 40 hours, a lot of agents and brokers go beyond that. Most of them even continue to work in the evenings and weekends to accommodate client requests. This causes burnout in some agents, prompting them to leave the profession eventually. To prevent this, you need to allocate your time wisely to the most profitable tasks.
If you're one of those who struggle with work-life balance, we rounded up five effective time management tips for busy real estate agents.
1. Prioritize tasks starting with the most important and urgent ones
According to the 80/20 rule, 80% of our results come from just 20% of the effort we put in. Thus, it's important to focus on tasks that will have a direct impact on our goals. We can delegate or delay other tasks or just drop them all together so as to not waste our time and effort.
To achieve the 80/20 rule, the Eisenhower Method was created. This method organizes all of our tasks into four categories:
Important and urgent: prioritize first
Important but not urgent: schedule for later
Urgent but not important: delegate
Not important and not urgent: consider dropping
When you're facing a mountain-load of responsibilities, you must prioritize the important and urgent tasks first. The most important tasks are those with significant consequences over the long term. Also, keep in mind that not all urgent tasks are important.
Once you're done with the most important and urgent tasks, you can work on whatever you can do quickly. For tasks that are important but not urgent, you can schedule them for a later date. If you have a real estate assistant, you can delegate tasks that are urgent but not important. Tasks that are not important and not urgent may not be adding value to your business—consider dropping these if possible.
2. Schedule tasks and set deadlines
With all the lead generation and conversions, showings, listings, and responding to client communications—on top of our personal responsibilities—sometimes 24 hours a day is not enough.
After you've prioritized all your responsibilities, you can schedule and set deadlines for each task. Setting a deadline gives us a finite amount of time to complete something. Deadlines can also help us monitor our time management and enable us to organize projects better.
Scheduling our tasks means filling our calendars with names and sections of all our activities. By doing so, we can envision our overall workload. It's also important to allot realistic periods of time for each task so we don't overestimate or underestimate our process.
3. Use time blocking for each week
Time-blocking is an essential skill every real estate agent should master. Time-blocking means marking specific times or days in your calendar as "unavailable". This will help you create a more efficient and productive workflow throughout the week.
In some cases, creating a weekly (instead of daily) time-blocking plan can be more effective because you don't have to create a new plan each day. This way, you can focus more on your long-term goals. Here is an example of a weekly time-block plan:
Mondays: lead generation preparation, paperwork, setting appointments
Tuesdays: lead generation and meetings
Wednesdays: lead conversions, showings, and listings
Thursdays: lead conversions and meetings
Fridays: lead generation and setting appointments
To improve your time-blocking strategy, you can use a time-tracking tool to monitor how long each task takes. Whenever a task requires a longer period to complete, take note of the total time you spent for future reference.
4. Create a morning routine
Mornings are important because they set the mood of your entire day and your overall productivity. Top-performing real estate professionals develop productive morning routines to start their day right and accomplish more tasks. Here are some activities you might want to add to your morning routine:
Wake up at the same time every morning: Having irregular sleep and wake pattern can lead to low performance. Waking up at a specific time every day will help you manage your time easier.
Don't check your emails and social media in bed: The internet is a bottomless vortex that can swallow your attention and make you forget time. Once you wake up, stay away from your phone and from any online content that can waste your time and drain your mental energy even before you start your day.
Exercise: Studies show that exercising every morning improves attention, visual learning, and decision-making. A 30-minute walk early in the morning can help prepare your mind and body for the day ahead.
5. Automate outreach and lead nurturing processes
Highly productive agents utilize available real estate tools to be more efficient. One example is customer relations manager (CRM) software, which enables agents to automate the lead generation process and find qualified leads faster. CRM tools can help you keep track of client conversations, create sales pipelines for different client groups, manage incoming requests, and nurture long-term clients. 
Property listing and management apps, such as Ziba Property, can also help you find properties, promote listings, and close deals more effectively. Ziba Property's unique feature, for instance, automatically notifies you when a homeowner in your area lists a property on the platform. You can then send your business proposal immediately to the owner through the app.
Bottom Line
Time management is a valuable skill that can help you succeed in real estate. But time management is really just self-management—knowing your priorities, sticking to your goals, staying away from distractions, and developing self-discipline. When we manage our time wisely, we can prevent burnout and develop a work-life balance.
To recap, here are our five time management tips for real estate agents:
Prioritize tasks starting with the most important and urgent ones
Schedule tasks and set deadlines
Use time blocking for each week
Follow a morning routine
Automate outreach and lead generation
About Ziba Property
Ziba Property is a global real estate property management software where real estate agents can list apartments, condos, and properties for sale or rent. Because of its cloud-based real estate agent management system, agents can connect with a fast-growing community of property buyers and investors anytime, anywhere.
You can also find landlords and owners who want to sell or lease their properties. The app will notify you once an owner lists a property in your covered location. You can then contact property owners directly and send your listing proposal.
Are you ready to find your next clients? Download the Ziba Property app now for free from Play Store and App Store.
Tags In